When decay affects the chewing surface of a molar, a filling may be insufficient to restore the tooth.
If the damage is not extensive enough to warrant a crown, an inlay or onlay may be the best solution.
What makes these restorations special?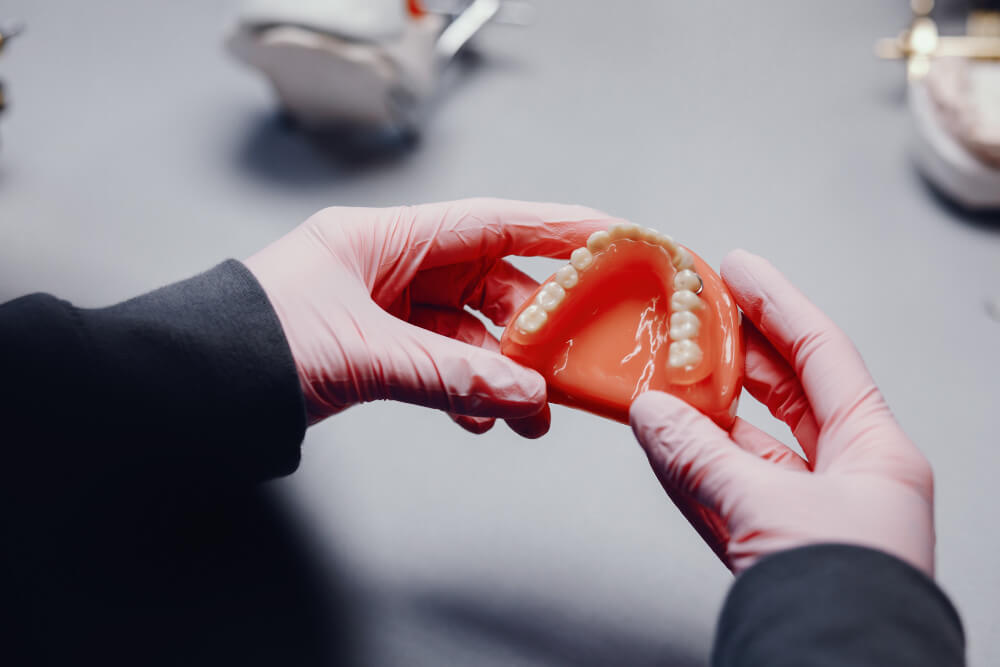 When will a dentist recommend an inlay or onlay?

What is the difference between an inlay and an onlay?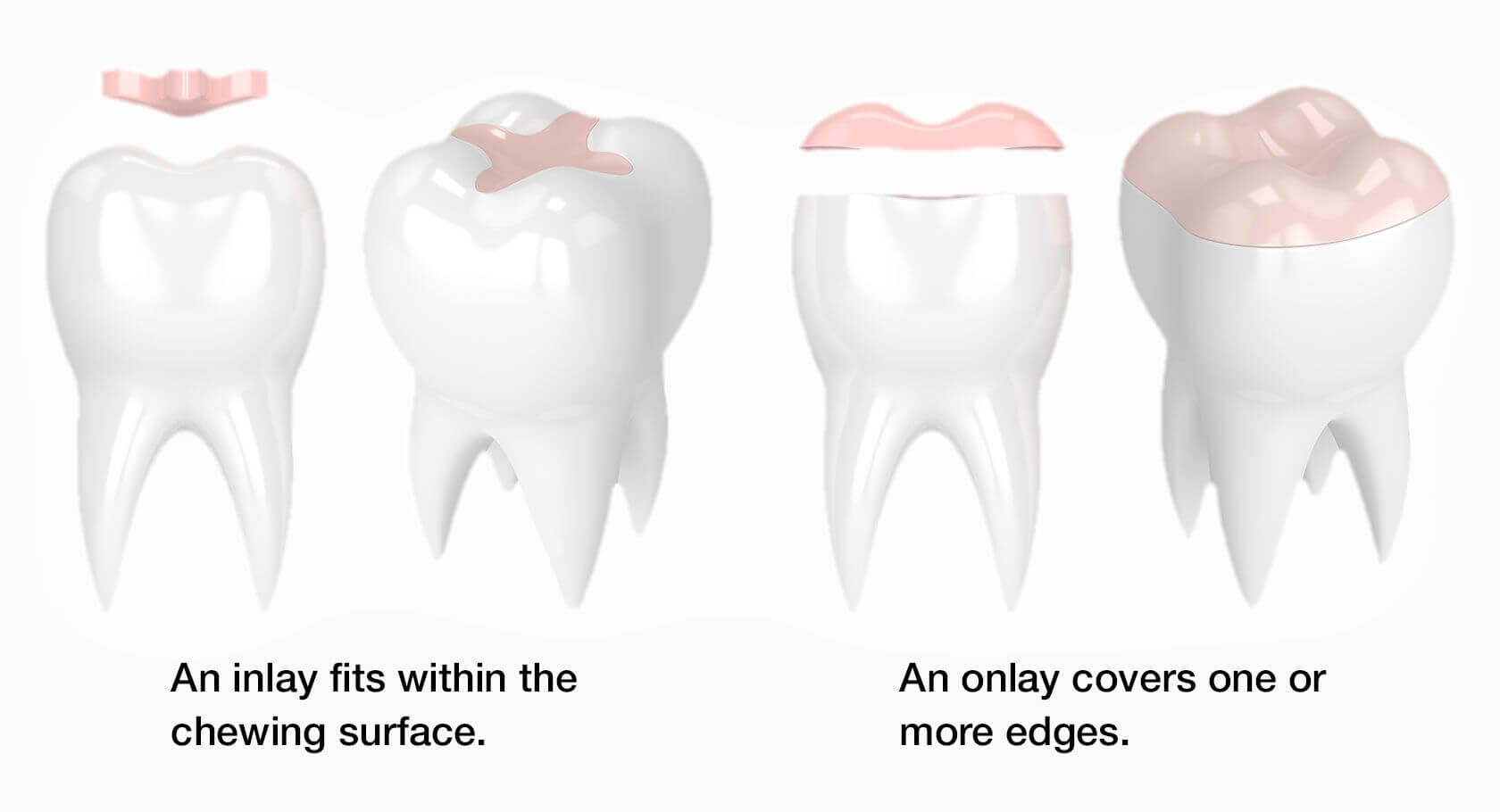 The price of an inlay or onlay
 generally ranges from 
$650 to $1,200 per tooth without coverage
. However, since inlays and onlays primarily serve a practical purpose, 
many insurance plans cover part or all of the costs 
associated with the procedure. 
Out-of-pocket costs for insured patients range from $40 to $100
 for a porcelain restoration. The overall cost will ultimately vary depending on the type of material used, the extent of damage or decay, and the dentist's level of expertise.
Let's look at what receiving an inlay or onlay involves…
During the Procedure, Your Dentist Will...
Your dentist will simply remove any compromised tissue before placing the restoration.
Administer a local anesthetic to numb the area for a more comfortable experience
Remove compromised tissue to eliminate all damaged areas and bacteria
Thoroughly clean and dry the tooth to ensure that no bacteria are trapped underneath the restoration
Take impressions of the tooth, which will serve as the basis of the customized restoration
Check the fit of the restoration to ensure your bite is balanced and comfortable
Bond the inlay or onlay to your tooth, restoring function and aesthetics
What else can you tell me about this treatment?
Inlays and onlays can be expertly 
fabricated in a laboratory or milled using CAD/CAM 
(computer-aided design and computer-aided manufacturing) 
technology 
to blend with your smile for beautiful, natural-looking results. With CAD/CAM technology, such as 
CEREC®
, your dentist can design and craft a custom inlay or onlay in a single visit. This system combines advanced computer software, a 3-D scanner, and an in-office milling unit. This means 
less time spent in the dentist's chair
, as well as a faster, more convenient solution. Inlays and onlays require no additional downtime, so 
you can leave the office with fully restored dental function
.
Amalgam dental fillings
 expand and contract with temperature fluctuations, which can cause the tooth to weaken or fracture. Small cracks can harbor bacteria and result in tooth decay, or even extend beneath the gumline and 
require extraction
. In contrast, 
porcelain inlays and onlays do not change size or shape with varying temperatures. 
Their structure makes them a 
more stable solution in the long-term
.
Daily at-home care for inlays and onlays is no different than that of healthy, natural teeth
. You should brush and floss daily and visit the dentist for 
biannual checkups
 to ensure your restoration is strong and secure. Should your inlay or onlay become loose, painful, crack, or fall out completely, contact your dentist as soon as possible to schedule a visit.
Do I need an inlay or onlay?
A Doctor Can Find the Right Solution
Tooth decay can only become worse without prompt treatment
. If you are not attending biannual checkups, or if you are experiencing symptoms of tooth decay,
schedule a visit with your doctor
!
Visit Our Top-Rated Office
Are you looking for a dental practice you can trust to provide high-quality care? Our office is regularly rated five stars for the professional and friendly care we provide to our patients. To meet with one of our dentists and start your dental crown process, fill out our online form to request your consultation. You can also contact us by calling our office, serving Cary and Raleigh, NC, at: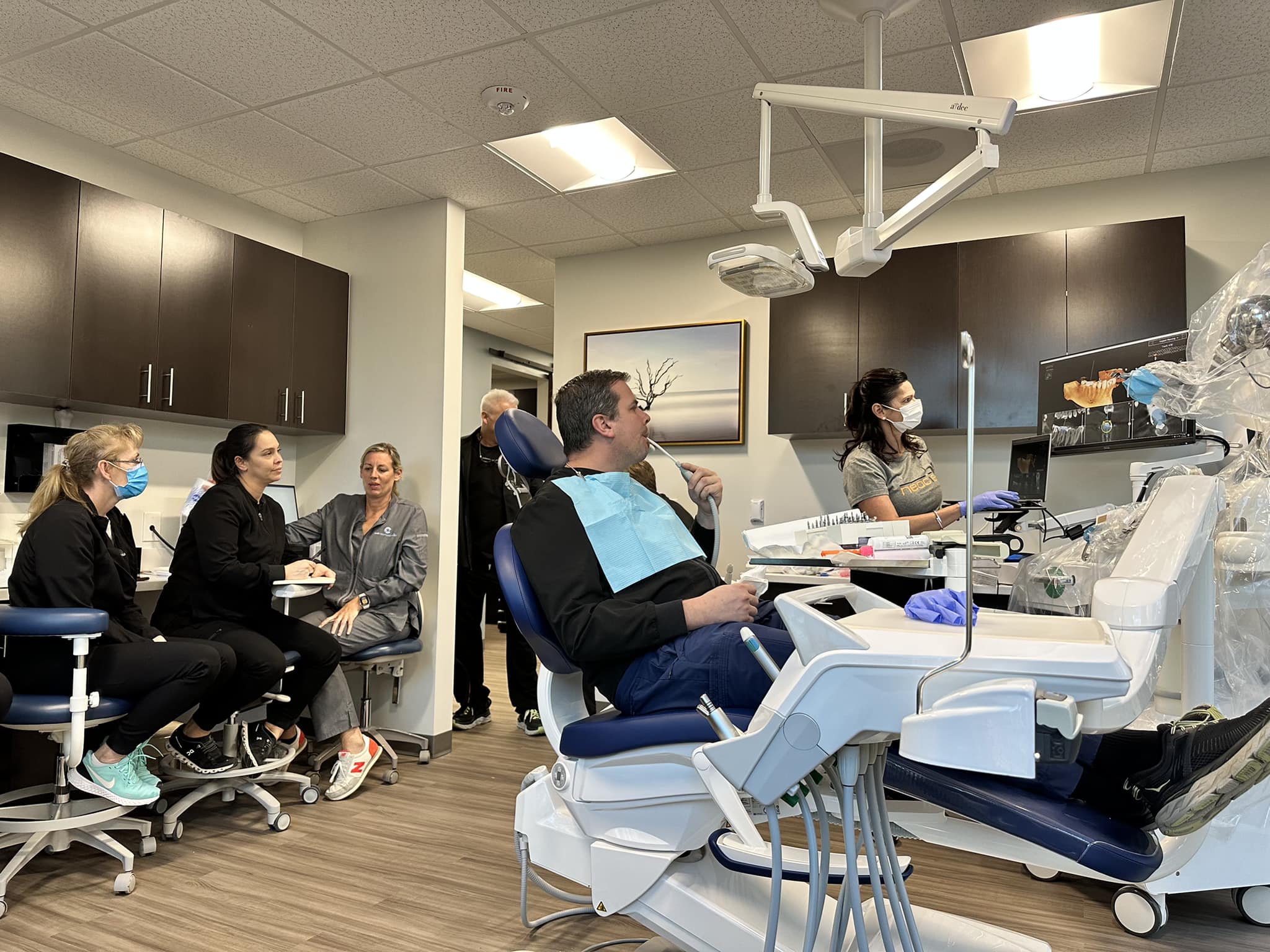 Cary Prosthodontics was founded in 1991 to provide the finest care to residents of Cary, Raleigh, Apex, Holly Springs, Fuquay-Varina, Morrisville, and surrounding areas. Our compassionate and caring prosthodontists are members of a number of professional associations, including:
American College of Prosthodontics (ACP)
Academy of Osseointegration (AO)
International Team for Implantology (ITI)
For more information about 
our services
, contact our practice 
online
 or 
call (919) 858-8193
 to speak to a member of our team today.
The Proof is in Our patients
Staff is professional but caring, more so than other medical offices I've been to. When you walk in they actually greet you by name. They remember details of your previous visits, which speaks to a great office staff. And Dr. Lim does his best to see that you have a good outcome. Thanks to all!
Was treated with so much respect from the Dr. and staff. I'm a very nervous person when it comes to having dental work done I can't help it, but they made feel so comfortable so easy to explain to let them know why I was there. I couldn't wait to tell my family and friends. Thanks
Yet again, an EXCELLENT visit with Dr Koffard. The staff are so thoughtful and welcoming, professional and knowledgeable and I really appreciate the lightness of the spirit in the entire office; not to mention Dr Koffards' effervescent nature. Thank you again for taking such good care of me. Oh! And congratulations on the new, roomy office space! It's beautiful!
My doctor and the nurse were absolutely amazing . i have bad anxiety when it comes to mouth operations and they walked me through every step, everything was super quick and easy. I wish there was another way to thank the ladies who worked on me bc i have never been so comfortable.
Tuesday
7:30 AM - 3:30 PM
Wednesday
7:30 AM - 3:30 PM
Thursday
7:30 AM - 3:30 PM