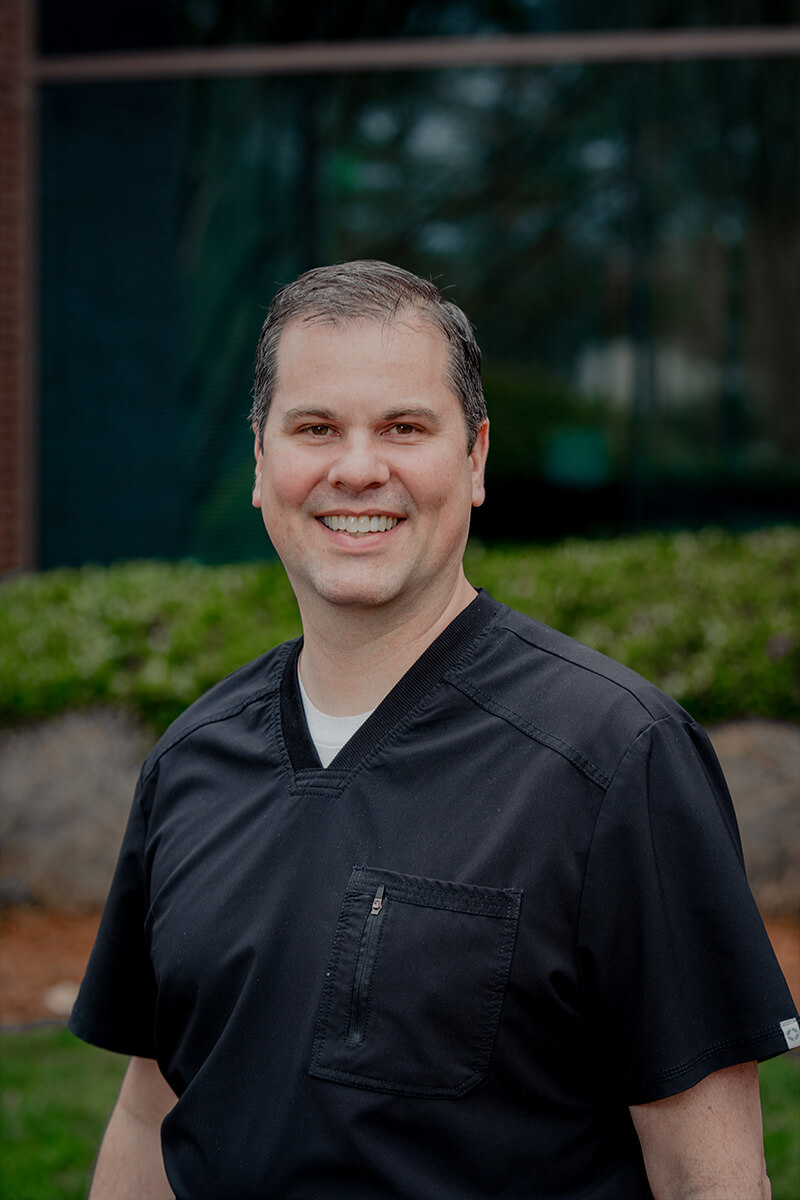 Dr. Brandon Kofford DMD, MS, FACP
Board-Certified Prosthodontist
Hello, my name is Brandon Kofford. I grew up in Midvale, UT until I was 19. After that, the world completely opened up to me! I lived in Maceio, Brazil for 2 years, teaching the wonderful people of that part of the world principles of a happy life. I learned to love the Portuguese language as well as the Brazilian people. Upon my return, I resumed my University studies at Brigham Young University. At Brigham Young I had two objectives:
Find a beautiful, talented, kind, loving, thoughtful, intelligent, incredible woman to be my eternal companion.
Satisfy all pre-requisites for Dental School and get accepted to a clinically-oriented program.
(I succeeded on both objectives!)
Marian, (the most beautiful, talented, kind, loving, thoughtful, intelligent and incredible woman in the world) and I got married in May 2004 and shortly after moved out to Cleveland, OH so I could begin my career in (and love affair with) DENTISTRY.
Dental school, among many things, was extremely EXPENSIVE, and as a young married couple anxious to start a family, Marian and I decided to accept a US Air Force Scholarship for dental school. It turned out to be an extraordinary decision! After dental school, the Air Force accepted me into their prestigious Prosthodontics residency program. I learned from some of the most dedicated and intelligent clinician's I have ever known. Col Mattie as my program director and his team of staff members: Col Taylor, Col Longo, Col Guillory, Col DeFreest, Col Phoenix, Col Sutton, Col Villalobos, etc. were an incredible team. (And just to point out the obvious, that's a lot of Colonels!) Those mentors prepared me well to present my knowledge and training to the American Board of Prosthodontists. I became a Board Certified Prosthodontist in December of 2011, a "crowning" achievement in my career!
After successfully completing my residency program, and earning my Masters of Science degree from the University of Texas Health Sciences Center in San Antonio, the Air Force sent me and my young family (by then 4 children) to RAF Lakenheath in Suffolk, England. Again, what an incredible opportunity! For 3 years I served as the Director of Prosthodontics for a military population in excess of 30,000 active duty and their dependents, mentoring 29 clinicians, from Captains to Cols, in all things Prosthodontics, and I served as the Base Dental Laboratory Flight Commander, overseeing and directing the operations of a 10 man dental laboratory. Life was busy but good in England. Leaving the Air Force was not an easy thing to do, but the right decision for a family with 6 young children. Marian and I decided that anywhere we moved to in the states would be closer to our families than where we were in England, so we looked for the best place to raise our 6 children. Can it get any better than Apex/Cary, NC?! We didn't think so, and now here we are! We absolutely love living here in Apex and working in Cary. I was thrilled when Dr. Karen Bruggers invited me to take stewardship over the practice that she had worked so diligently to establish as a center for advanced prosthodontic treatment in the Cary, Apex, Holly Springs, Raleigh and Garner areas. It is with humility and gratitude that I dedicate my service and my training to honoring Dr. Bruggers' legacy in Cary Prosthodontics.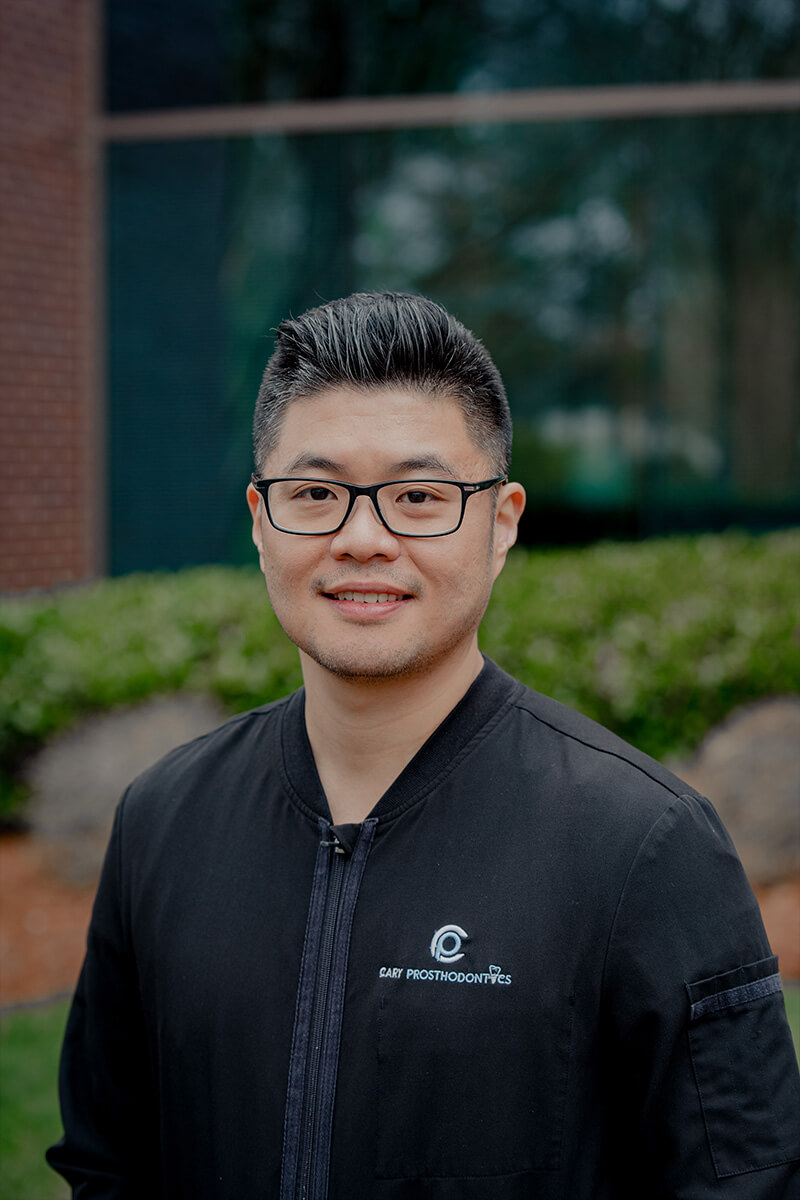 Dr. Kevin Lim is excited to be apart of the team at Cary Prosthodontics in Cary, NC. Having spent his childhood years being raised between the Philippines, a Southeast Asian island nation located in the Western Pacific Ocean, and the Pacific Northwest city of Vancouver, British Columbia, Canada. He moved to sunny California to complete his BS in Biological Sciences at the University of California in Irvine. After some time away from academics he decided to pursue a career in the field of dentistry and completed his Doctor of Dental Medicine from the University of Pennsylvania. He would spend an additional two years in Philadelphia at Einstein Medical Center completing a hospital-based general practice residency including an additional chief residency year. In 2014, along with his wife Kimberly and infant twin girls, Kayley and Adeline, Dr. Lim moved to the great state of North Carolina where he completed his Certificate and Master's degree in Prosthodontics at University of North Carolina Adams School of Dentistry in Chapel Hill followed by an additional fellowship in oral implantology. His surgical experience would grow to include to the unexpectedly delivery of his son, Zachary, within their home in Chapel Hill.
From 2018-2019, Dr. Lim served at as full-time clinical assistant professor in the Prosthodontic section of the Division of Comprehensive Oral Health at the University of North Carolina Adams School of Dentistry in Chapel Hill where he was heavily involved in the predoctoral implant curriculum and the graduate prosthodontics training program. In addition to being the newest prosthodontist at Cary Prosthodontics, Dr. Lim still serves as an adjunct assistant professor at the UNC-Adams School of Dentistry. His interest lies in the utilization of digital workflows in planning and executing full mouth rehabilitations to better ensure greater treatment predictability and satisfaction for patients.
Outside the field of dentistry, Dr. Lim and his family stay busy exploring all the sites, activities and food that North Carolina has offer. They look forward to welcoming the addition of their baby girl in December.
Dr. Lim is an active member in:
American College of Prosthodontics (ACP)
Academy of Osseointegration (AO)
International Team for Implantology (ITI)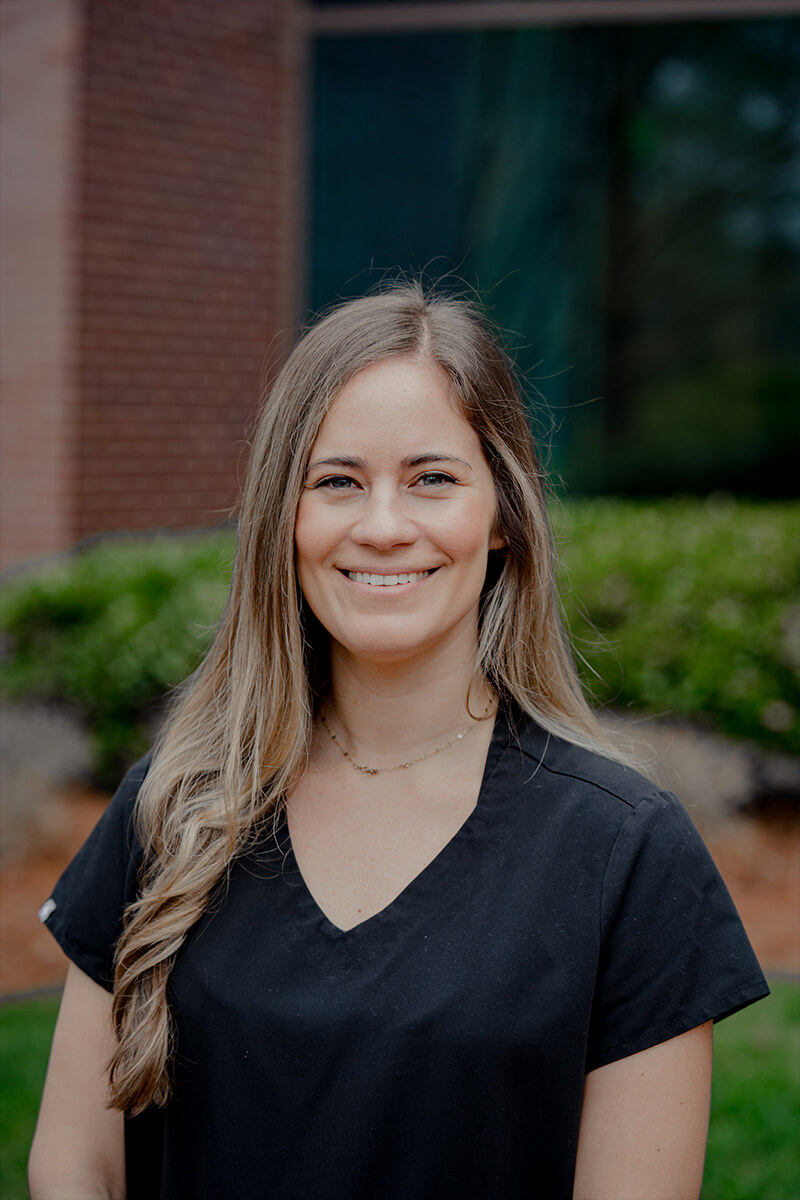 Renata Camino Navarro, DDS
Dr. Renata Camino Navarro received her DDS from Universidad Intercontinental in Mexico City. After graduating Dr. Camino began practicing as a general dentist in Mexico City. After spending a couple years in private practice Dr. Camino made the decision to pursue an advanced training in the field of prosthodontics which she completed at the University of North Carolina at Chapel Hill, Adams school of Dentistry earning her prosthodontics certificate and a Master of Science. Additionally she completed an Oral Implantology Fellowship at the same institution.
Dr. Camino served as an assistant professor in the Department of Prosthodontics in the Division of Comprehensive Oral Health at The University of North Carolina Adams School of Dentistry from 2019-2022. Her duties involved teaching didactic and clinical courses at predoctoral level, graduate level and patient care.
Dr. Camino is passionate about the care and service she can provide as a clinician. She is a published author and a current member of the American College of Prosthodontics, The International Team of Implantology and the Women's Implantology Network.
I was born and raised in Mexico. I come from a big family and followed my mother's steps into dentistry.. She is my biggest aspiration professionally and most importantly personally.
I am trained in classical ballet and still enjoy dancing and practicing yoga. My free time consists of staying active, running and hiking with my dog Manolo.
I enjoy the little things in life like a good laugh, a nice sweat or a salty breath of air. I am warm, empathetic and passionate about being kind to each other.
Professionally, I find value in continuing to implement innovative workflows that simplify treatment, in order to enhance provider communication skills and facilitate interdisciplinary care. I want to continue to contribute to our wonderful profession and most importantly transmit the importance of the impact we can provide to our patients with high quality care. 
We Can Improve Your Quality of Life
Damaged or missing teeth undercut your health, comfort, and confidence. Thankfully, the advanced treatments available at Cary Prosthodontics, serving Cary and Raleigh, NC, can restore the appearance and function of your smile, radically improving your quality of life.
After receiving implants, advanced dentures, or other dental prosthetics, you can once again eat your favorite foods, brush and floss normally, and laugh and smile without embarrassment.
Take the first step towards a fully functioning mouth by scheduling an appointment with our prosthodontists. You can request a consultation by filling out our online form or calling our friendly team at: 
Tuesday
7:30 AM - 3:30 PM
Wednesday
7:30 AM - 3:30 PM
Thursday
7:30 AM - 3:30 PM