Full Mouth Reconstruction
Complicated dental problems can affect your ability to bite and chew, as well as your overall oral health.
The team at Cary Prosthodontics can perform full mouth reconstruction to replace teeth and repair extensive tooth damage.
Learn how patients in the Cary and Raleigh, NC, area can experience total oral health rehabilitation.
What Is Full Mouth Reconstruction?
Full mouth reconstruction refers to a combination of general and restorative dentistry procedures designed to restore the health of your teeth, gums, and jaw. The process can reduce pain and sensitivity, restore the ability to bite and chew, and enhance the aesthetics of your smile.
Here's one part of a full mouth construction...
Dental Problems
Full Mouth Restoration Can Treat
Tooth decay
Fractured teeth
Tooth loss
Tooth sensitivity
Teeth grinding (bruxism)
TMJ disorders (TMD)
Do You Need Extensive Dental Care?
Contact Our Prosthodontists Today
If you are missing a tooth, have fractured teeth, or suffer from jaw pain, total mouth rehabilitation may be right for you. Dr. Brandon Kofford and Dr. Kevin Lim have improved the smiles of many patients in Cary and Raleigh, NC, and the surrounding communities. We look forward to serving you.
We can use a combination of implants, restorations, and other advanced dentistry techniques when developing a custom treatment plan that addresses your needs. The results of full mouth restoration can dramatically enhance your smile and your overall quality of life.
To learn more about your restorative dental treatment options, contact our practice online. You can also request an appointment by phone.
Call Us Today
5-Star Dentistry
Cary Prosthodontics Can Make a Difference
Dr. Kofford is the best dentist and the kindest person. I highly recommend him!
View on Google
Friendly and professional staff. Top notch work and very veteran friendly as well.
View on Google
The price of full mouth reconstruction varies based on the procedures used. During your consultation at our Cary, NC, practice, we can provide a full cost breakdown. To keep treatments affordable, we offer several financing options and can review eligibility for coverage through dental insurance and/or medical insurance.
Full Mouth Reconstruction Procedures
Dental Fillings
One of the most common restorations patients receive, a dental filling is designed to replace enamel structure that's been compromised by a cavity. We use tooth-colored fillings whenever possible because they look more natural and are more compatible with your dental tissue than silver amalgam.
Inlays and Onlays
Inlays and onlays are types of restorations used when fillings are no longer viable on molars and premolars that have been substantially damaged or decayed. Inlays restore the grooved chewing surface of the teeth, while onlays can replace both the points and grooves.
A dental crown protects a severely decayed or damaged tooth. Crowns may be made of porcelain fused to metal or gold, and there are metal-free crown options. Metal-free restorations are made from IPS e.max (lithium disilicate) and zirconia.
A dental bridge fills the gap left by a missing tooth. The bridge consists of a false tooth bookended by crowns. The crowns cap the teeth adjacent to the gap, holding the bridge in place. Thanks to a bridge, you can bite, chew, and smile with confidence.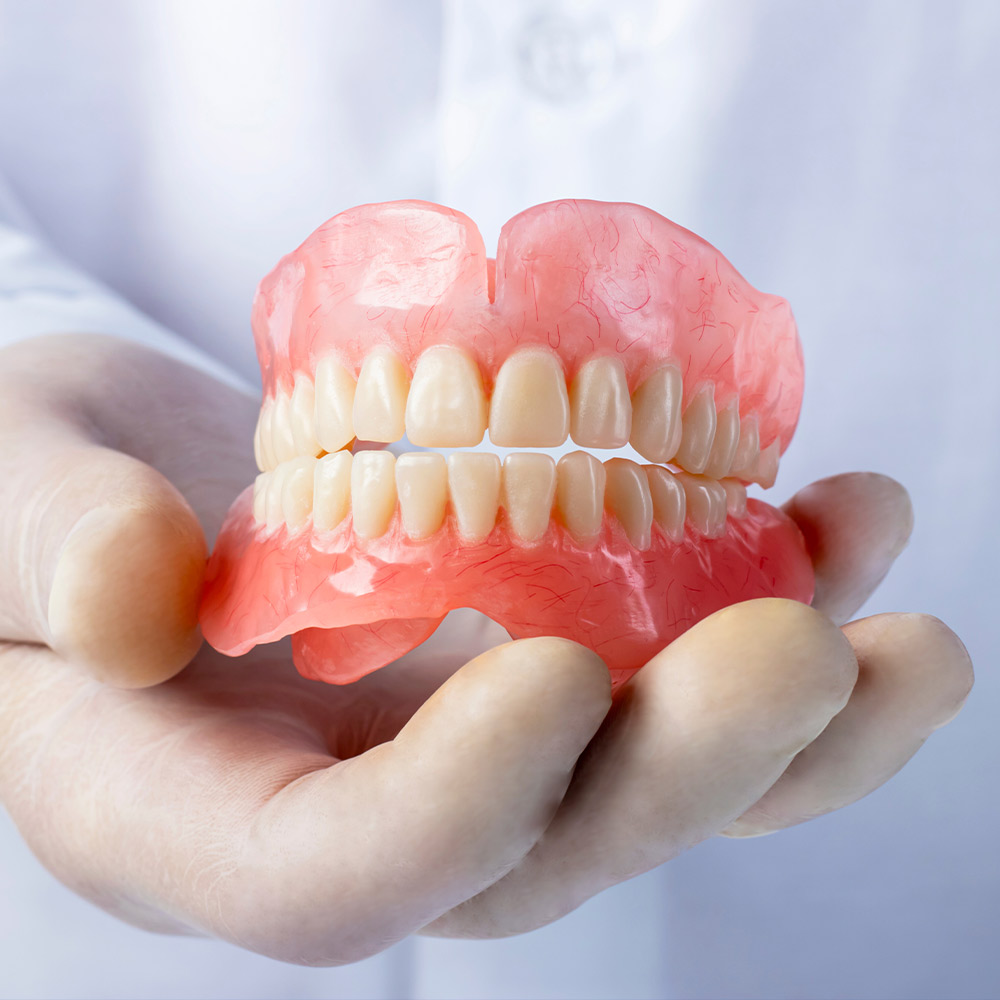 Missing most or all of your teeth? Dentures are an excellent option. Full and partial dentures brace onto the gumline, restoring oral function. Using modern materials, dentures are custom-crafted to look just like a natural set of teeth.
If you want a stable solution for missing teeth, implants may be right for you. Dental implants are artificial tooth roots that fuse to the jawbone. Dental implants can make a crown, bridge, or set of dentures as stable as natural teeth.
Bruxism Treatment
Stress, poor dental alignment, and other factors can cause you to grind your teeth at night. This can leave your teeth severely worn down. Treating bruxism often involves restoring the damaged teeth while also diagnosing and treating the underlying cause or causes of the condition.
TMJ Treatment
The temporomandibular joint (TMJ) is one of the most complicated joints in the body. It is the point where the jawbone meets the cranium. When this joint doesn't function properly, it can cause popping, locking, and pain in the jaw. There are many ways we can treat a TMJ disorder (TMD) depending on your needs.
Patient-Centered Dentistry
Proudly Serving Cary, NC
Dr. Kofford has assembled a great staff and they act like they have fun at work. Dr. Kofford is wicked smart (he attended Case Western Reserve). Great prosthodontist.
View on Google
This place is amazing. It is very clean. The doctors are really nice and treat you with care. I really recommend them to everyone.
View on Google
Planning Your Full Mouth Reconstruction
Advanced Diagnostics
Using the latest x-rays and digital imaging technology, we can assess the health of every tooth. The Straumann® CARES® 7 intraoral scanner allows us to create 3-D color scans of the mouth. The data collected by this tool can help our partner dental lab develop high-quality, natural-looking restorations.
Treatment Planning
After performing a full exam and assessing your dental health, we will create a custom treatment plan just for you. We will go over each procedure in great detail, giving you a timeline for treatment and answering your questions about the process. Our goal is to fully restore and rehabilitate your mouth.
Patient Education
Keeping You on the Same Page
While discussing your reconstruction plan, our entire team will help you understand the risks, benefits, and basics of various procedures. Using a combination of physical models, before and after photos, slideshows, and digital technology, we will make sure you feel confident and fully informed about your dental treatment options.