How Much Does a Filling Cost?
How Much Does a Filling Cost?
According to the National Institute of Dental and Craniofacial Research, 
92 percent of adults will develop a cavity
 at some point in their lives. 
Fillings
 are one of the most commonly performed dental procedures worldwide and many patients find themselves asking, "
How much does a filling cost
?" Fillings are generally an inexpensive and very effective method of restoration. Treatment cost ranges from about $75 to $200 per tooth depending on the size and type of material you choose. Investing in a filling to repair your tooth today can minimize your risk of requiring more costly treatments such as root canal therapy, extraction, and restoration in the future. Your dentist can guide you in choosing a treatment option that works for your budget and provides long-lasting health benefits.
The cost of a filling will depend on the extent of decay and the type of material used.
There are several factors which will largely determine the cost of your treatment including the condition of your smile, the materials selected, and whether you decide to receive sedation during the procedure.
Before placing a filling, your dentist will first remove the decayed portions of enamel and dentin. Larger cavities will result in higher treatment costs. A well-trained dentist will always recommend the most conservative treatment possible, meaning fillings will be the first line of defense if signs of decay cannot be reserved.
Investing in a filling to repair your tooth today can minimize your risk of requiring more costly treatments such as root canal therapy, extraction, and restoration in the future.
Depending on the location and extent of the cavity, your dentist may recommend an 
inlay or onlay
. Also known as indirect fillings, these restorations cover a larger area than traditional fillings and are often made using specialized computer-aided design and manufacturing software. Your dentist will spend more time and resources creating this restoration, which will likely increase the cost of your treatment. If decay and infection has reached the inside of your tooth, your endodontic health may be compromised. Root canal therapy is the most effective way to 
save your tooth from extraction
. Once the infection is eradicated, you will typically require the placement of a dental crown. Although undergoing a root canal will substantially increase the price of your treatment, it can help restore health to your existing tooth structure.
Location of the Damaged Tooth
Because of their larger size and hard-to-reach location, fillings placed on molars are generally more expensive. However, smaller teeth towards the front of your mouth are more visible when you smile. Most patients elect for a tooth-colored filling in these cases. Tooth-colored fillings are more expensive than traditional amalgam fillings because the composite resin is a higher quality material.
While a traditional 
amalgam filling
 can restore function to a decayed tooth, a 
composite filling
 can also maintain the appearance of your smile and is a great option if you are worried about the effects of metal on your health. Amalgam fillings are noticeably dark, but composite fillings are closely matched to the color of your surrounding teeth for seamless coverage. If you choose a tooth-colored filling, you can generally expect to pay more than if you choose the traditional metal option. Metal fillings cost roughly $50 to $100, whereas composite fillings can run between $90 and $250 each.
Whether Sedation Is Needed
Although most patients are able to receive a filling with local anesthesia alone, those with severe dental anxiety or phobia may choose to be sedated. These medications can help you relax during the procedure, but will increase the overall cost of your treatment.
Are Fillings Covered by Insurance?
Dental fillings are not an elective or cosmetic procedure, which means that your insurance provider should partially or fully cover your care. Patients can expect to pay about $10 to $50 in out-of-pocket costs for a metal filling and between $40 and $100 if they choose composite. If you do not have dental insurance, the cost of a filling is relatively inexpensive when compared to other dental procedures.
It is important to remember that leaving a cavity untreated can lead to excessive discomfort and tooth loss, which can require more expensive and complex restorative procedures. Do not delay the placement of a filling due concerns over costs. Your dentist likely accepts financing so you can receive the care you need to protect your oral health.
Cary Prosthodontics was founded in 1991 to provide the finest care to residents of Cary, Raleigh, Apex, Holly Springs, Fuquay-Varina, Morrisville, and surrounding areas. Our compassionate and caring prosthodontists are members of a number of professional associations, including:
American College of Prosthodontics (ACP)
Academy of Osseointegration (AO)
International Team for Implantology (ITI)
For more information about 
our services
, contact our practice 
online
 or 
call (919) 858-8193
 to speak to a member of our team today.
Visit Our Top-Rated Office
Are you looking for a dental practice you can trust to provide high-quality care? Our office is regularly rated five stars for the professional and friendly care we provide to our patients. To meet with one of our dentists and start your dental crown process, fill out our online form to request your consultation. You can also contact us by calling our office, serving Cary and Raleigh, NC, at: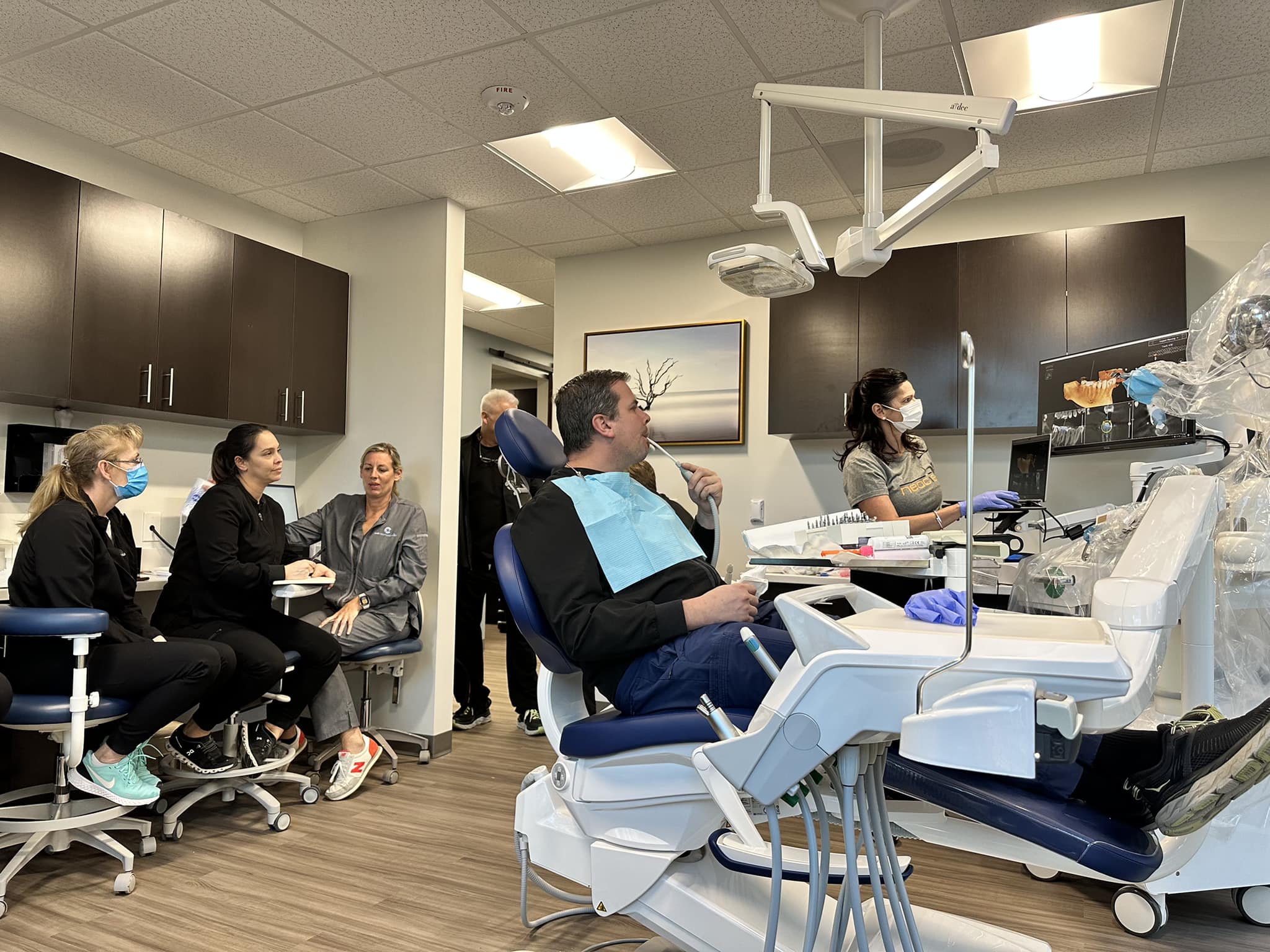 The Proof is in Our patients
Staff is professional but caring, more so than other medical offices I've been to. When you walk in they actually greet you by name. They remember details of your previous visits, which speaks to a great office staff. And Dr. Lim does his best to see that you have a good outcome. Thanks to all!
Was treated with so much respect from the Dr. and staff. I'm a very nervous person when it comes to having dental work done I can't help it, but they made feel so comfortable so easy to explain to let them know why I was there. I couldn't wait to tell my family and friends. Thanks
Yet again, an EXCELLENT visit with Dr Koffard. The staff are so thoughtful and welcoming, professional and knowledgeable and I really appreciate the lightness of the spirit in the entire office; not to mention Dr Koffards' effervescent nature. Thank you again for taking such good care of me. Oh! And congratulations on the new, roomy office space! It's beautiful!
My doctor and the nurse were absolutely amazing . i have bad anxiety when it comes to mouth operations and they walked me through every step, everything was super quick and easy. I wish there was another way to thank the ladies who worked on me bc i have never been so comfortable.
Tuesday
7:30 AM - 3:30 PM
Wednesday
7:30 AM - 3:30 PM
Thursday
7:30 AM - 3:30 PM